Customer Reviews
11/09/2020
I recommend this product
Beautiful
The picture is stunning. It looks incredible - very well made.
Yasmin D.
United Kingdom
11/09/2020
Willow Bay Home & Garden
Amazing Yasmin, we are so happy that you love it! We would love to see a picture of it up :)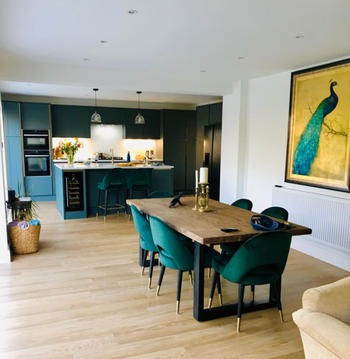 03/08/2020
I recommend this product
Peacock Art
Fantastic service from even before making a purchase! I sent an enquiring email about measurements and had a response right away. I was kept in the loop while the art was commissioned and the delivery. I love it. It is a fantastic centrepiece and has had so many comments.
Louise P.
United Kingdom
04/08/2020
Willow Bay Home & Garden
Oh wow, we love it too, the room looks amazing! We are delighted we could help, thank you for the lovely review :)
Camelot Pictures | Lustre Peacock I - Framed Art
DELIVERIES
Delivery is available to all UK mainland addresses only.
Customers living in some remote rural areas should note some delivery services are extended by a few days.
A dispatch fee may apply for the following extended Postcode areas:
Inverness (IV), Kilmarnock (KA), Kirkcaldy (KY), Kirkwall (KW), Lerwick (ZE), Outer Hebrides (HS), Paisley (PA), Perth (PH), Aberdeen (AB), Dundee (DD), Dumfries and Galloway (DG), Falkirk (FK) and Isle of Wight (PO30-PO41).
Deliveries normally occur between 7am and 6pm.
Currently the exact timing of delivery cannot be specified and we do not deliver to multiple addresses.
Unless otherwise stated, all deliveries will be made direct to your door.
We are not responsible for any additional lifting or carrying of your goods.
Working days are Monday to Friday and exclude bank holidays.
We are not responsible for any additional lifting or carrying of your goods.
We do not deliver items to multiple addresses.
Please leave a day-time telephone number so that we can contact you to arrange a convenient delivery date.
RETURNS
We make every effort to ensure products arrive in perfect condition. However, in the unlikely event of a product arriving damaged, customers should contact us within 48 hours, when we will arrange collection of the goods and an appropriate replacement will be dispatched.
If you find your purchase is unsatisfactory, we are happy to exchange items or refund your credit/debit card, provided the goods are returned to us within 28 days of their receipt, in the original undamaged packaging and in a re-saleable condition.
We regret, however, that we cannot, in this case, refund any return postage costs.
Once we have received and inspected your returned item, we will issue a refund to your card or original payment method. Please note that depending on your bank, it may take an additional 5-10 business days after your credit is applied for it to appear in your account.